Noodles have gone a long way since its inception in 1983, and are now a popular choice among all of the country's youth. They have a nice flavour, are easy to prepare, and are quite satisfying. Noodles Brands are also available in a variety of shapes and sizes, ranging from round to flat, spicy to basic, and white flour to Atta.
Instant noodles have maintained an excellent status in practically every Indian household today due to their quick-cooking capabilities. Packaged and ready-to-eat foods are gaining a substantial share of the Indian food market as a result of today's lifestyles. Breakfast noodles in a soup or stir-fried noodles for a quick snack are both alternatives.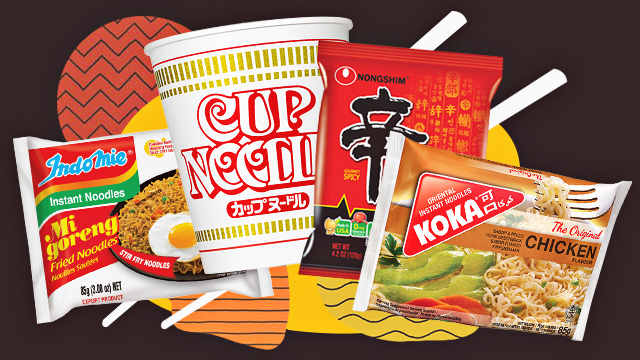 There's a flavour for everyone, regardless of their taste, mood, occasion, or choice. Momofuku Ando is the creator of noodle dishes. Instant noodles were an instant hit. What began as a snack has evolved into a staple food, displacing a number of favorites.
Because of the extensive acceptance, many different brands of noodles in India may be found on the market. To give you more options, we've included the most popular versions for each brand. You may choose from a variety of Ataa, oats, and chicken noodles with these brands. Here is a list of the top 10 noodles brands in India.
1. Maggi

Maggi, a noodle brand owned by Nestle India, is still the most popular in India. For nearly 38 years, Maggi has dominated the Indian noodle market. In India, Maggi was the first brand of noodle. Maggi is the most popular noodle brand in India, with fans of all ages. Maggi is also a favourite among young people who live in hostels and don't have access to good meals. It's amazing how simple Maggi is to make.
It can convert anyone into a cook, and the best part about cooking Maggi is adding your own masalas. Everyone's favourite MAGGI 2-Minute Masala Noodles with iron, which will now offer consumers with 15% of their daily Iron requirement. Simply open the package, pour the raw noodles into a pan of boiling water, and simmer for a few minutes, and you're done. Preparing tasty and filling cuisine has never been easier, faster, or more enjoyable thanks to Maggi.
Maggi has become synonymous with noodles as a result of its long-standing presence in the public awareness. Each of us has an own Maggi tale to tell and a different Maggi recipe to share. Maggi was quickly brought back after its ban, much to the relief of the brand's faithful customers.
Also read: Tea Brands in India
Nestle's Maggi instant noodles brand is made with the highest quality spices and ingredients, and it is also one of India's most popular packaged food brands in the instant noodles category, with around 70% of urban Indian homes using it. It is one of the most cost-effective ways to satisfy your food needs at any time of day, with a market share of around 60%.
2. Top Ramen

Nissin's Top Ramen is another popular noodle brand in India. Nissin is a Japanese firm that launched its first noodle product in 1958 but didn't enter the Indian market until 1988, 30 years later. Top Ramen takes some time to establish itself as one of India's premier noodle brands.
Top Ramen noodles brands in India thrills people with a wide selection of options to pick from, catering to all types of taste buds. Nissin's Best Ramen Curry is the king of instant noodles, only bested by Maggi's hegemony. The flat, long noodles are hotter than their Asian counterparts and available in a variety of flavours, including masala, curry, shrimp, chicken, and more.
They're also available in cup noodles brands in India, making them a convenient option for everyone on the go. Almost every brand nowadays, including Top Ramen, offers a diverse selection of quick noodles to its clients.
3. Yippee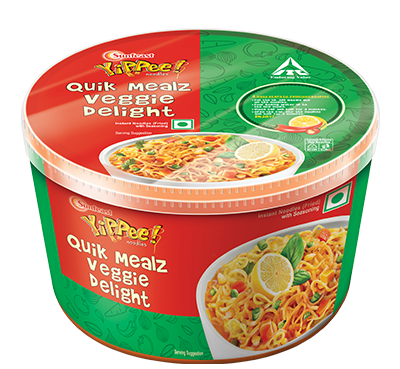 Sunfeast Yippee, a part of the Indian multinational ITC, is another renowned noodle brand in India. Yippee originally entered the Indian industry in the early 2000s and has since grown to be a big player. Yippee! by the early 2010s! Maggi, the market leader, had begun to face competition.
Even 30 minutes after cooking, a specific scientific technique ensures that the noodles do not lump. Yippee! has been on the Indian noodle market for years, but it gained popularity and popularity when Maggi was outlawed.  Noodles come in a variety of flavours, such as Magic Masala, Classic Masala, and Tricolor Pasta Chinese Masala.
ITC's Sunfeast Yippee Noodles are prepared with a special combination of Ashirvad Ataa and come in four delicious flavours. They have a 22 percent market share and provide the product.
4. Wai Wai

WAI WAI is a well-known Nepalese brand that has been around since 1972. This brand has come a long way from being a packet of noodles from Nepal to being served on dinner tables in 32 nations! The Wai Wai brand produces more than 2.3 billion packets of noodles every year.
It is one of greatest Hakka noodles brands in India. These noodles are manufactured by the Chaudhary Group. People in Tamil Nadu adore it, and the company is now looking to extend its operations across the country. The nicest part about these noodles is that, in addition to eating them as soupy or ordinary instant noodles, you can eat them right out of the package — simply add the powdered sauces, stir well, and you're ready to go.
Wai Wai would be one of India's top three noodle brands if the main firm invested in advertising. These Noodles has a strong presence in the states of Jharkhand, Bihar, Rajasthan, and Haryana, and has also established itself as a popular instant noodle brand in India's metros and tier -two cities.
5. Ching's Secret

Another popular noodle brand in India is Ching's Secret. Ching's introduces a line of products with the trademark Desi Chinese, ensuring that traditional noodles are given a desi tadka Noodles are also had with drinks. Check out our best red wine brands in India with price list.  They offers Schezwan Instant Noodles, Singapore Curry Instant Noodles, Hot Garlic Instant Noodles, Egg Hakka Noodles, and Veg Hakka Noodles to its customers.
These noodles have a distinct flavour that is both spicy and popular among Indian fast-food fans. Using superstars like Ranveer Singh, who is popular among the country's youth, aided the brand's growth. Although the concept of "desi Chinese" is not new in India, the brand sponsor took full advantage of it and capitalized on it like no other.
Also read: Potato Chips Brands in India
The brand is known for its robust, spicy flavours and is currently ranked as one of the top 10 noodles brands in world. They'll titillate your taste senses and satisfy your stomach, but they'll leave you wanting more. With consistent growth, it has risen to the top of India's top ten selling noodles brands.
6. Knorr Soupy

Knorr invented the soupy noodles concept, which is popular among noodle fans because it offers a unique flavour. Their noodles are a terrific combination since they taste like soup and noodles at the same time. Knorr offers a variety of flavours, including Mast Masala Soupy Noodles, Knorr Chinese Noodle Schezwan, Knorr Chinese Noodle Hot Spicy, Fried Rice, and Chinese Noodles.
Knorr instant noodles come in a variety of flavours, including Chinese noodles, masala Chaska Desi noodles, and Italian cheese and herb noodles. It is regarded as being the first to popularize the concept of dry soups. Knorr came up with yet another novel concept in 2010, soupy noodles.
The trend quickly caught on, leading other big noodle brands in India to release comparable items in order to keep their customers.
7. Patanjali

Patanjali Noodles by Baba Ramdev, a Make in India initiative, are becoming increasingly popular among his followers and those who want to contribute to India's globalization. Brand maintains that its noodles, like its other goods, are nutritious and that consumers can eat them without fear of negative consequences. In a market where other companies are emphasizing on spicy flavour, launching Ataa noodles in a lighter flavour makes sense.
Because other quick noodles are prepared with Maida, the brand promoted their noodles as a healthier alternative to Maggi and other instant noodles. However, it took the company eight years to enter the Indian noodle market. Noodles are one of the brand's many items on the market.
Carrots, peas, and beans are used in patanjali Atta Noodles, which are manufactured from high-quality ingredients. The veggies noodles are a healthful snack with spicy turmeric, garlic, and ginger flavours. For a tangy tasty flavour you can also try sauces. Try to find the best tomato ketchup brands in India. This brand has become the most popular choice in Indian households for people looking for guilt-free snacking options.
8. Horlicks Foodles

Horlicks is a well-known brand in the health-drink market. Foodles, like patanjali, caters to health-conscious consumers. It comes in two flavours: standard and 4 grain. Both were design to supply noodle fans with multigrain nutrients. It comes in a Health maker sachet and can be distribute to people of all ages.
Foodles is marketed as a healthy noodles brands in India that contains vitamins, iron, and calcium from rice, wheat, ragi, and maize. Horlicks' foray into the instant noodles market, which began as a dairy product, was met with a lot of amusement by most consumers. It is one of the most cost-effective solutions for all instant noodle fans, with an 80 gm packet costing only Rs.10.
9. Joy Mee Noodles

Joy Mee is a new instant noodle brand, and it is the first to include crispy onion toppings. These noodles could be a lifesaver when hunger pangs strike. The brand, on the other hand, makes our list of the top noodle brands in India because of the sheer amount of flavour it brings to the table.
These non-sticky, creamy noodles have a tangy flavour that reminds me of Indian curries. The vegetables and crunchy onion toppings just add to the delight. Joy Mee made a name for herself through creative marketing. Joy Mee is up there with the greatest in terms of quality.
These noodles have health benefits because they are assemble with all-natural ingredients. With the addition of veggies and spices to Joy Mee Instant Noodles, the product now has the right Indian flavour. Its flavour is distinctive and favourite by all foodies, and it costs Rs.43.
10. Smith & Jones

International cuisines are there with regional flavours in this brand. Smith and Jones is a brand that you must try if you enjoy trying new flavours from throughout the world. With pasta, cooking pastes, ketchup, and noodles, the product offers a taste of international cuisines. In less than 5 minutes, you can make Smith & Jones Noodles.
Also read: Chocolate Brands in India
Salt, sauce, or spices are avoid. Noodles come in a variety of shapes, colours, and flavours and are a staple in Asian cuisines. Capital Foods Ltd India also produces the Smith & Jones brand of instant noodles and pasta, which come in a variety of Indian and Chinese spice flavours. If you're a foodie who enjoys experimenting with new flavours, Smith and Jones masala noodles is a must-try.